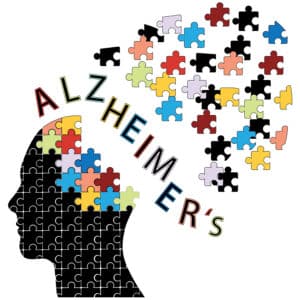 One misconception people have about Alzheimer's disease is that it's a disease for the elderly. The reality is that people in their 30s face this cruel illness. It's estimated that 5% to 6% of Alzheimer's patients are diagnosed with the disease before 65.
Early-onset Alzheimer's poses problems, as these people develop the illness before they qualify for retirement. Some have children still living at home. It puts the burden of care on younger generations.
A college student suddenly balances the care of a parent with college classes. A new mom may find herself caring for an infant and parent simultaneously. It's stressful for everyone, and that's a key reason why you need a care plan laid out as soon as possible.
Things to Consider
No two cases of early-onset Alzheimer's are identical, but there are some common symptoms. In the earliest stages, your mom won't need much care. She may forget things and require patience, but she'll still be taking care of herself.
One of the earliest needs for assistance will be medications. She can't remember to take medications, which means she'll forget doses or take too many pills if she's not supervised.
In the early stages, your mom cannot drive. It's too easy for her to get lost or forget the steps involved in checking her blind-spots, parking correctly, or making turns.
As her cognitive skills decline, she'll need more help. Eventually, she will require 24/7 care. She may not sleep much. She can be aggressive and even abusive, especially if paranoia and delusions impact her daily life. When she doesn't sleep, it can be hard to monitor her overnight when you need sleep. Hiring caregivers is essential.
Your mom will start shuffling when she walks, and become more likely to trip or walk into things. Walking up or down stairs or stepping up a curb is dangerous if someone doesn't support her.
She's going to have a hard time taking care of herself as her vision decreases. She can't cook a meal without supervision, and she will reach a point where holding a fork and spoon is impossible. She'll require finger foods and nutritional shakes with a straw.
Talk to a Specialist in Alzheimer's Care ASAP
Alzheimer's care is essential to helping your mom with her daily care needs, especially as her vision, mobility, and fine motor skills diminish. You can't let her care needs affect your finances and health, so you need to make sure caregivers who specialize in dementia are available to take over.
One thing you shouldn't do is delay talking to an expert in Alzheimer's care. While you might not need help for your mom right now, that can change quickly. In some regions, there can be waitlists for Alzheimer's care. The sooner you get onto a list, the better it is for your family.
If you or an aging loved one are considering hiring Alzheimer's Care in Scottsdale, AZ, please contact the caring staff at Home Care Resources at (602) 443-4700.
Sources:
https://www.mayoclinic.org/diseases-conditions/alzheimers-disease/in-depth/alzheimers/art-20048356#
Latest posts by Jack Coito
(see all)