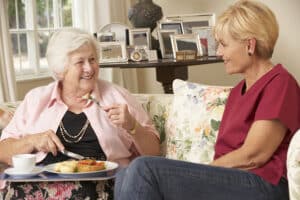 While your mom wants to remain in the family home, you have some concerns. Her large two-story home has stairs going up to the bedrooms and stairs that go down to the basement. Which is where the laundry room, family room, and access to the electrical panel and HVAC equipment are all located.
She wants to age in place, but you don't know how to make her home suitable for her as her mobility and strength decrease. She's on medications that make her lightheaded, and she's fallen. What can you do to heighten the safety in her home?
Consider Rearranging Rooms
If stairs are a hassle and your mom has an upstairs bedroom, rearranging her layout may be necessary. Turn a downstairs den into a main-level bedroom. If her home has a walk-out basement, it can help to have her moved to the lowest level. This will keep her from having to attempt stairs in an emergency.
Ideally, she needs a kitchen area with a refrigerator and freezer, a bedroom, a living room area, and a bathroom available. If it's not possible to give her a main-level bedroom, it's worth looking into a stair lift to keep her from falling trying to get up and down the stairs.
Add Grab Bars
An aging adult's bathroom should have sturdy grab bars for support. Your mom needs a grab bar when she steps in and out of the shower. It's also recommended to have them behind and to the side of the toilet to use when sitting down and standing up.
Make Sure Stair Rails Are Secure
Inspect all stair rails inside and outside the home to ensure they're secure. They need to be fastened to studs and not the sheetrock. If there are issues, get a professional to fix the issue if you can't do it yourself.
Check the Lighting in Each Room
Go through your mom's home and inspect the lighting. Some homes were designed without overhead lights. Instead, a lamp is plugged into an outlet where the top outlet is controlled by the light switch. This can make it hard to illuminate the corners of the room.
Consider adding smart bulbs that are programmed to turn on and off at specific times of the day. Smart bulbs are also voice-activated, so your mom could tell her smart speaker to turn the living room lights on, and all lights in that room would turn on.
When looking at the lights, don't overlook hallways, entryways, and outdoor decks, stairs, and patios. If there's no way to install lights without electricity, invest in solar lights that don't require any electrical outlet or electrician to wire them.
Work with an in-home care agency to make sure your mom has the care she needs to live independently. With a home that's set for her to age in place and in-home care services to offer support when she needs it, your mom will be independent, safe, and comfortable.
If you or an aging loved one are considering hiring In-Home Care in Paradise Valley, AZ, please contact the caring staff at Home Care Resources at (602) 443-4700.
Latest posts by Jack Coito
(see all)