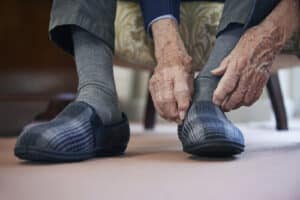 It's National I Love My Feet Day on August 17th. Foot care is key to mobility, but it's something people often ignore. What should your dad be doing to care for his feet?
Trim Nails Across and File Rough Edges
When nails are not trimmed straight across, it can cause ingrown nails. Your dad needs to use clippers that cut his nails straight across and file the rough edges to prevent them from snagging on things and breaking off.
Wear Supportive Shoes
Is your dad wearing shoes that support his weight and arches? Check his soles. Are there worn spots in a specific area, such as the inside heel? Older adults often find their heel turns inward or outward causing heel and foot pain.
Are his shoes pinching his feet or fitting loosely and rubbing areas? If his shoes aren't comfortable, he's going to feel a lot of pain when he's walking around.
If it hurts to walk, he's less likely to stay active. Adding supportive pads inside his shoes may help. If it's not enough, try taking him to a store that offers professional fittings and ask for advice on the best brands for his needs.
Apply Lotion
Older skin is drier due to the loss of collagen and elasticity. Skin thins out and is prone to cracking on the heels. After showering, your dad should dry his feet completely. Once that's done, he should apply foot cream to his heels, soles of his feet, and top of his feet. As moisture between the toes can trigger athlete's foot, avoid putting lotion between the toes. His personal care at home aide can also help him with this.
Check Them for Sores, Cracks, and Blisters
While he's applying foot cream, check them for any signs of blisters, sores, or cracks. If he sees anything concerning, he needs to clean the area, apply an antibacterial lotion, and cover them with bandages to prevent infection.
If he's diabetic, he should talk to his doctor. As open sores on his feet can become incredibly dangerous if they become infected, his doctor may want to take additional precautions to ensure he's properly managing his blood sugar levels.
It's often recommended that people with diabetes avoid wearing sandals or flip-flops outside. They should stick to supportive sneakers and socks that wick moisture from the feet.
Schedule a Podiatrist Visit
Has your dad ever been to a podiatrist? Schedule a check-up with a podiatrist to have your dad's feet examined. A podiatrist can trim your dad's nails, address any problems like corns or bunions, and recommend the best footwear for issues like pronation or supination.
Personal care at home services help your dad with all aspects of grooming and hygiene. Learn more about the availability of foot care and other personal care at home options by making a call.
If you or an aging loved one are considering hiring Personal Care at Home in Scottsdale, AZ, please contact the caring staff at Home Care Resources at (602) 443-4700.
Latest posts by Jack Coito
(see all)