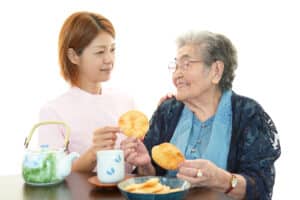 Your mom's been diagnosed with Alzheimer's. For some, it progresses slowly and lasts 10, 15, or even 20 years. For others, it seems to race quickly toward the final stage. Many families regret not spending more time in the early stages.
Right now, you should focus on spending quality time together. It's especially important to spend time together hearing your mom's stories and taking notes on any family recipes you love, but don't quite know she made them.
As Alzheimer's progresses, your mom's memories will become scattered. She'll clearly remember details from her and your childhood one minute, but not the next.
This is why it's important to make memories now while you can, and family dinners are the perfect time to remember the past. Take time to learn more about her childhood, hear stories about your formative years, and gather recipes for yourself and future generations.
Help Her in the Kitchen
Get into the kitchen with your mom and have her sit on a stool or chair while everyone follows her instructions. As a child, you remember your mom making some standard dinners. Every Sunday night was a roast chicken or hearty lasagna. But, there's one dish she stopped making as you got older. You don't know how she made it, but you have fond memories.
It's those recipes you want to bring up to her. Find out more about where the recipe originated and how she made it. You remember her making scalloped potatoes from scratch with chunks of ham, but you don't know how she made it. Or, she made pancakes from some starter she shared with her friends and kept passing back and forth.
Ask her about it. Keep a notebook nearby to take notes. If you want to share it later, you could set up a free website to share with family members, or even self-publish a family cookbook.
Keep Gatherings Small
Your mom may find large crowds overwhelming. Therefore, pay close attention to the signs that it's too much. If she's retreating to her bedroom and hesitating to come out, there are too many people. If she's pacing or acting anxious, there are too many people.
Limit gatherings to her children and grandchildren. Because she may find cousins and close family friends too much to handle. Find where her comfort level is and stick to it.
Clean Up Afterwards
Make sure your mom doesn't have to do all the clean-up after the meal. She should sit and talk to others. Or, someone could take her for a walk, while others clear the table, wash dishes, and clean counters and stovetops.
Take out the trash if it's full, and take out any recyclables. Wipe down the table, push in chairs, and finally sweep up or mop the kitchen floor if there were any spills.
Hire Home Care Aides for Weekly Care Needs
As Alzheimer's moves from the early stages to the middle and late stages, your mom's ability to take care of herself and her home will diminish. Elder care services provide the support she needs to stay in her home.
Elder care aides can drive your mom around to stores and her doctor's office or memory care practice. They can clean her home, do the laundry, and bring in and sort her mail. In the late stages, they can also help her get showered, dressed, and ensure her teeth are brushed and flossed.
If you or an aging loved one are considering hiring Elder Care in Glendale, AZ, please contact the caring staff at Home Care Resources at (602) 443-4700.
Latest posts by Jack Coito
(see all)