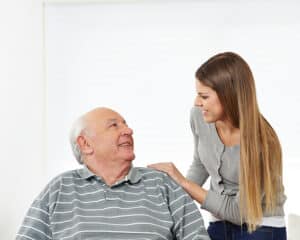 Your dad has Alzheimer's disease, and it's still in the early stages. Now is a good time to start researching what the different stages are and what can happen. Sometimes, families have no idea of the things that can happen with Alzheimer's disease and how that will affect the care your dad needs. It may be time to consider Alzheimer's care to help support his needs.
Seeing Things That Aren't There
Hallucinations are common in the middle stages of Alzheimer's. You're driving down the road and your dad suddenly starts yelling at you. He sees a small man sitting on your dashboard and it's distressing him. There's nothing there, but he insists you're wrong and swatting at it, which is dangerous when you're driving.
Vision Issues
Your dad's vision will change. Depth perception often goes first. He falls on stairs or curbs easily. He shuffles his feet rather than takes steps. If you have a dark-colored rug on a pale floor, it looks like a hole to him, so he won't walk past it.
Sugar Cravings
Your dad won't eat anything if it's not sweet now. He will eat bananas and yogurts all day, but he hates things he used to love like pot pies or pizza. He won't touch those foods. You may need to figure out ways to make the foods that match his nutritional needs taste sweet.
Add blueberries, apples, or cranberries to chicken salad for sandwiches. Serve a roasted slice of pork with blueberry or apple chutney. Offer chicken fingers with honey and sweet potato fries with honey mustard.
Rage and Anger
You never expected your dad to fly into a rage and start hitting you. It happens though. Even the most serene, loving parent can become extremely cruel and abusive with Alzheimer's. While it's the disease, it doesn't ease your fear of getting hit, bitten, kicked, slapped, or shoved into walls, furniture, or down the stairs.
Sundowning
Sundowning is something that until it happens, you have no idea what it's like. It's a period of the day, often as the sun starts to set, when your dad suddenly has a drastic mood swing. It's often when he becomes agitated, anxious, delusional, or paranoid and nothing seems to calm him down.
He may start asking to go home a lot. He tries to get outside and wander away. He won't settle, even if you put on music or his favorite show or movie. The best way to avoid it is by making sure lights are programmed to turn on before it starts getting shadowy. Ask his memory care doctor about medications that can help.
Don't wait until something happens before you arrange Alzheimer's care. It's best to give your dad time to acclimate to having a caregiver around. The earlier he's able to get to know his caregiver, the better it is. Talk to a specialist in Alzheimer's care to get started.
If you or an aging loved one are considering hiring Alzheimer's Care in Paradise Valley, AZ, please contact the caring staff at Home Care Resources at (602) 443-4700.
Latest posts by Jack Coito
(see all)