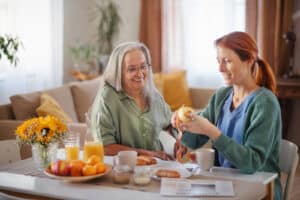 Studies show that people who regularly skip breakfast end up with lower levels of calcium, folate, iron, and vitamins A, B1, B2, B3, C, and D. If your dad skips breakfast, he needs to make up for these deficiencies in his other meals. Some people are good at ensuring they get enough during other meals, but your dad may face malnutrition that can impact his muscle strength, bone health, immune system, and cell health.
Another issue that's been identified is that people who skip breakfast often consume more added sugar and saturated fat during the rest of the day. Those are key takeaways during September's Better Breakfast Month. Breakfast is best.
When preparing balanced breakfasts that meet your dad's needs, you don't have to be fancy or take an hour to get breakfast ready. Here are some simple, nutritious breakfasts that are easy to prepare yourself or with the help of your companion care at home provider.
Breakfast Parfaits
A parfait is a delicious start to the morning. There are several ways to do them. You can layer fresh fruit, nuts, and seeds with prepared oats, quinoa, or unflavored Greek yogurt. If you use yogurt, you can add layers of muesli or granola for added fiber. Oatmeal and quinoa are packed with fiber, but you'll want dairy with milk or even ricotta cheese that's been sweetened with honey.
Breakfast Burritos
A breakfast burrito is a great choice as you can make them in advance and have them ready to reheat in the freezer. Make a batch of scrambled eggs that you've loaded with your dad's favorite vegetables. Place the eggs on a whole wheat tortilla. Add a slice of cheddar cheese and wrap them up into burritos and store in a freezer bag.
Serve a breakfast burrito with fresh fruit and salsa. Slices of avocado are also good additions if your dad likes avocado.
Mini Quiches
Make mini quiches in a muffin tin. Use a piece of rye bread and push them down into the tin. Fill with a mixture of beaten egg, ricotta cheese, fresh herbs, uncured turkey bacon, and chopped vegetables like spinach, onion, red peppers, and asparagus. Bake those until the egg is set. Cool and keep in the refrigerator until needed.
When your dad wants breakfast, he can microwave a quiche and have it with a salad and fresh fruit. If he's used to hash browns, he could have those or try making quinoa cakes using cooked quinoa, diced onion, his favorite cheese, and herbs. Shape them into patties and saute until cooked through and golden on each side. These can be frozen until needed.
Are you pressed for time and often rush to get breakfast on the table and out the door for work? Your dad has to eat alone, which isn't ideal. Arrange to have caregivers there to prepare meals for him. Companion care at home aides cook breakfast, make coffee or tea as he likes, and even join him at the table.
With companion care at home, he eats well and has someone to talk to. Which ensures he eats a full meal. Learn more about this home care service by making a call.
If you or an aging loved one are considering hiring Companion Care at Home in Carefree, AZ, please contact the caring staff at Home Care Resources at (602) 443-4700.
Latest posts by Jack Coito
(see all)