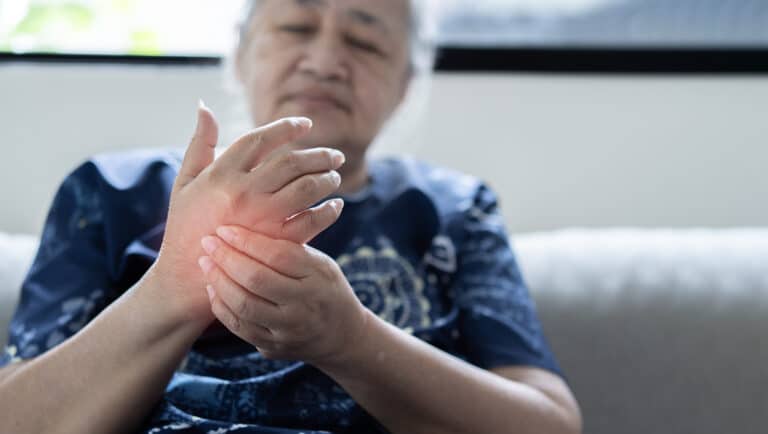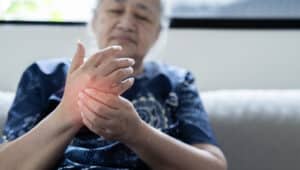 October 12th is World Arthritis Day, a chronic health condition that affects 50.4% of U.S. adults aged 65 or older. Find out more about arthritis and how you can help your mom if she suspects she has it.
While there are more than 100 different types of arthritis, there are five that are the most common in older adults: fibromyalgia, gout, osteoarthritis, psoriatic arthritis, and rheumatoid arthritis.
Fibromyalgia
Fibromyalgia causes widespread pain throughout the nerves in the body in approximately 4 million Americans. This incessant pain can lead to insomnia, mental distress, mobility issues due to the pain and stiffness in the joints, and migraines.
Women are more likely to develop fibromyalgia than men are. If it's diagnosed, physical therapy, over-the-counter pain medications, and stress reduction techniques are common treatments. It also helps to have emotional support and help with household chores when the pain flares up.
Gout
With gout, pain is often targeted to the big toes and is caused by a build-up of uric acid crystals in the fluid and tissue in a joint. When it happens, the pain is unbearable, making it hard to walk, sleep with even a sheet over your feet, or put on shoes and socks.
While there's no cure for gout, management of the pain using over-the-counter anti-inflammatory pain relievers, such as ibuprofen, helps. Eating a diet that avoids red meat, shellfish, and organ meat is also important.
Osteoarthritis
Most adults dealing with arthritis pain have osteoarthritis. It's a condition where joint wear and tear over the decades wears out the cartilage in a joint until bones rub together. Losing weight and getting enough exercise is the key to managing osteoarthritis.
When the pain is unbearable, someone needs to keep encouraging your mom to stay active. A daily walk is a low-stress way to get enough exercise and help the joints stay fluid. Over-the-counter pain medications also help with pain management and help her maintain normal routines.
You can have a home care provider help her with some of the more difficult tasks when pain flares up. If her ankles are stiff and sore, it helps to have a caregiver take over the laundry to keep your mom off the stairs leading to a laundry room that's in a garage or basement.
Psoriatic Arthritis
Psoriasis is a skin condition where the skin cells grow at an abnormal rate creating scaly patches. It can expand to the joints and cause pain and inflammation. Treatment of psoriasis is key to preventing psoriatic arthritis.
Rheumatoid Arthritis
Rheumatoid arthritis is an autoimmune condition where the body attacks healthy cells. Joint damage occurs leading to arthritis pain and inflammation. Medications to stop the immune system's attacks are important.
It's important to have rheumatoid arthritis diagnosed as early as possible. The damage can extend to the heart, lungs, and eyes, so it needs to be managed to prevent this from happening.
When your mom's arthritis impacts her mobility, it's time to make sure she has help around the home. Give a local home care agency a call to ask questions, get answers, and make the right arrangements for her needs. With home care aides helping out, she never has to struggle to complete daily routines.
If you or an aging loved one are considering Home Care in Sun City, AZ please contact the caring staff at Home Care Resources today. Call (602) 443-4700
Home Care Resources is a top provider of home care services in Phoenix, Tempe, Scottsdale, Glendale, Paradise Valley, Peoria, Sun City, Sun City West, Surprise, Goodyear, Cave Creek, Care Free, Fountain Hills, and surrounding areas.
Latest posts by Jack Coito
(see all)