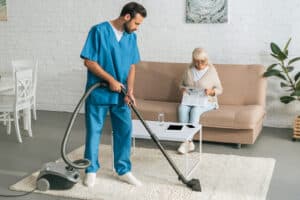 Your mom's getting older and finding it difficult to keep up with chores the way she used to. Have you talked to her about the benefits of home care assistance? Here are some of the things caregivers can do to help your mom out each week.
Housework
Vacuuming, sweeping, dusting, dishes, and counters are all tasks your mom has a harder time completing. She might find it difficult to carry the heavy bag of trash outside to the proper bin, and make sure recyclables go into the other. Her caregiver can help her with this.
If your mom wants her sofa vacuumed at the same time floors are tended to, her caregiver can do it. When there are things your mom wants to take care of herself, she's able to. Her caregiver is only there to take on the chores that your mom struggles to complete independently.
Laundry
Each week, your mom's caregiver can gather the dirty sheets, towels, and clothes and set up a wash cycle. When they're clean, the caregiver can move them to the dryer or bring them outside to line dry. Everything is folded or hung up and put away once things are clean and dry.
If she needs items ironed, that's also an option. She might like to make sure towels are rolled into cylinders rather than folded into a square. Her caregiver works with her to make sure her items are folded and put away as your mom wants them.
Transportation
It's not surprising to learn that your mom's doctor is cautioning against her driving. Whether her eyesight is diminishing or her reaction times are problematic, arrange transportation to ensure she's able to run errands without risking her safety.
Her caregiver can drive her to her appointments and bring her back home. She'll have someone to join her on shopping trips and help her run errands around town. If your mom needs to refill her prescription, her caregiver can help her. If she needs to pick up packages at the post office, that's also easy to take care of.
Meals
Your mom struggles to cook home-cooked meals on her own. Have you considered having a caregiver available to cook for her? Your mom can talk to her caregiver about the meals she likes and when she wants to eat. They'll work out a meal plan, shop for needed groceries, and cook together if your mom wants. If she wants to sit back and let the caregiver do everything, that's fine.
After your mom eats, her caregiver clears the table, washes dishes, and cleans up the kitchen counters, stovetop, and sink. Your mom no longer has to struggle to load and run the dishwasher and put things away after.
Talk to a home care assistance specialist about your mom's desire to age at home and the things she needs help completing each week. From there, an advisor can help you set up the services that match your mom's needs and ensure she's set up to age at home without fear or frustration.
If you or an aging loved one are considering hiring Home Care Assistance in Cave Creek, AZ, please contact the caring staff at Home Care Resources at (602) 443-4700.
Latest posts by Jack Coito
(see all)